8 New Handguns On the Way in 2023
"Lightweight" and "easy" are two hallmarks of the new crop of Handguns
For 2023, retailers will see the emergence of some interesting and promising trends. The word "lightweight" appears in a majority of manufacturers' descriptions of their new guns, with "easy" following not far behind. Increasingly knowledgeable consumers are looking for guns that empower them to be better, whether they're busting clays, taking down game, or enhancing their personal safety. For most, a lighter firearm means easier manipulation and less fatigue at the end of the day or shift. When companies step up and address consumer feedback with improved products, everyone wins.
Other interesting developments include the rise of the 2011-style single-action pistol. Competitive shooters were the first to turn on to the benefits of greater capacity in the responsive, 1911-inspired format. Recently, the trend is growing within the non-competition market also. And while the current season has seen less excitement over new rifle calibers, the 5.7x28mm is enjoying a revival. It's easy to understand why, as the little cartridge performs well in both handguns and short- and mid-range rifle applications. And it does so with while delivering very little in the way of recoil, providing a way for any new or seasoned shooter to enjoy multiple applications from the same load.
Bond Arms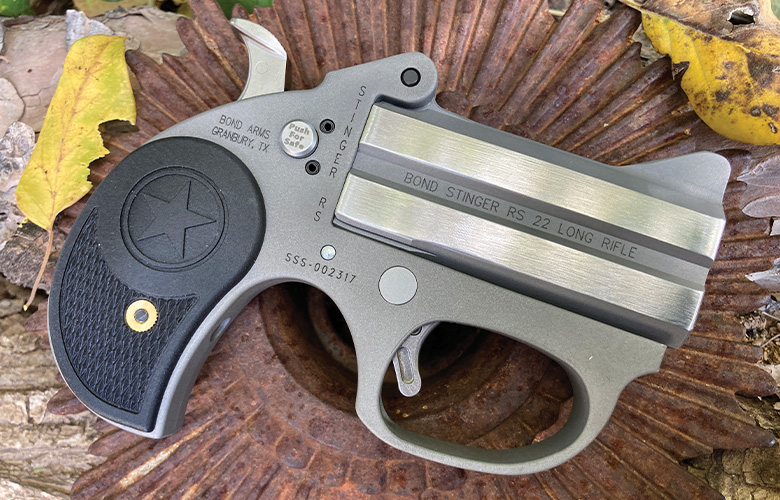 Last year Bond Arms released a centerfire variant of its super-slim derringer Stinger line. Now comes the Stinger in .22 LR. That's not the only news, though. These little guns were originally crafted from aluminum, but a sudden supply stoppage forced a change to steel construction, something already deeply familiar in the Bond Arms shop. In rimfire configuration, the steel Stinger remains so light that pocket carry with it remains very discreet. And with virtually no recoil, anyone in the family can enjoy the 22 LR Stinger. SRP: $269.
Check these out on bondarms.com
FN
FN has added a subcompact pistol to its compensator-equipped Edge series within the Model 509 lineup. The 509 CC Edge with a 4.25-inch barrel is available with 10-, 12-, and 15-round magazines. It's offered in gray and black/gray. What sets the 509 CC Edge apart from other compensated guns is its field strip procedure, which FN claims is the fastest in the industry among compensated pistols. It stays on trend with a flat-face trigger and pre-installed optic or slide cut for a low-profile setting for an optic. SRP: $1,569.
Check these out on fnamerica.com
Smith & Wesson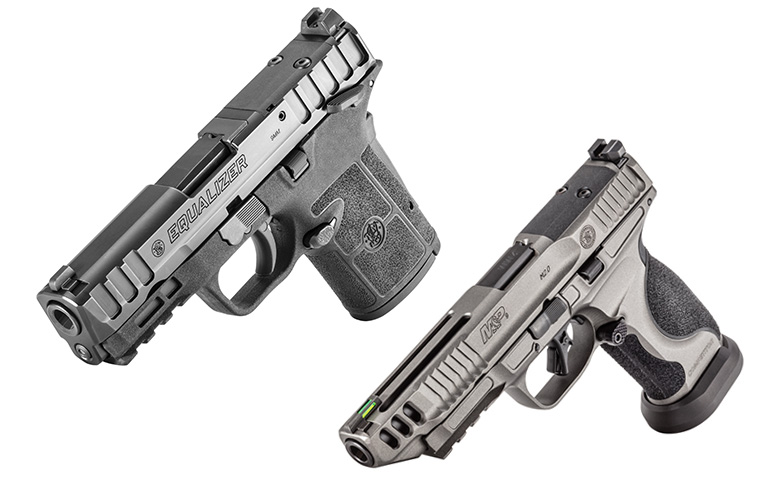 The Equalizer is a carry gun that borrows numerous elements of their popular and easy-racking EZ series while answering the call for better capacity in a small package. It has a 3.7-inch barrel and magazines that hold 10, 13, or 15 rounds. Its single-action trigger has a palpable, audible reset. A straighter, 18-degree grip angle will please many shooters who find more common angles uncomfortable. Thumb safety is optional. The slide is optics-ready. The Equalizer will surely be the answer for S&W customers who love the ergonomics of the EZ model, but found it a tad too big for concealment use. SRP: $599.99.
Built for competition right out of the box, the Competitor comes with a 5-inch barrel, has an enhanced sear for lighter, crisper trigger let-off, and includes a flared magazine well for fast and efficient reloads. Boasting a new look, the aggressive lightening cuts on both the top and sides of the slide ultimately reduce the amount of weight in front of the chamber and, in return, help improve the recoil balance point. The slide is cut for optics, but includes a fiber-optic front sight and a blacked-out serrated rear sight. The Competitor comes with an oversized mag release that is reversible for both right- and left-handed users and ships with a total of four magazines. Choose from models available in 10+1 or 17+1 round capacities with a Tungsten Gray Cerakote. SRP: $999.
Check these out on smith-wesson.com
Springfield Armory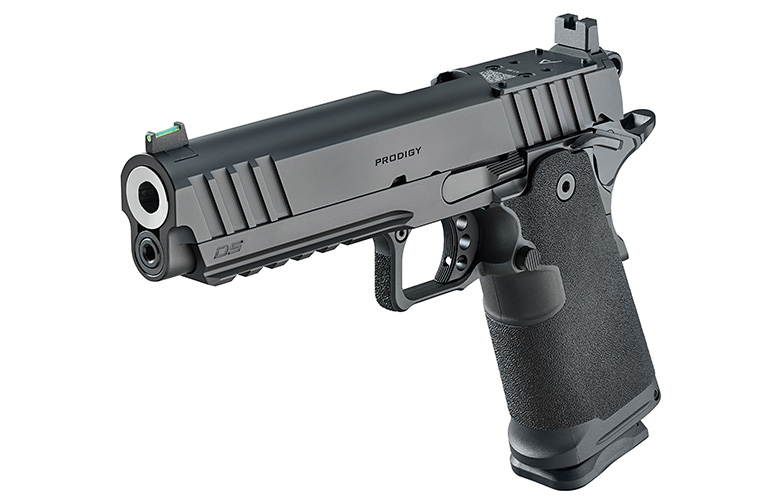 Springfield Armory broke perhaps the biggest pistol news of 2022 when they announced their first 2011—the DS Prodigy. As the name implies, it has a double-stack magazine with 17- or 20-round capacity. There is also a 26-round optional mag.  The DS Prodigy is currently available only in 9mm.
Rather than making consumers wait for one small line extension at a time, Springfield took the bold step of releasing four editions at once. There's a 4.25-inch barrel size and a government-size Prodigy, each of which is offered with or without the company's HEX Dragonfly red-dot optic. An ambidextrous safety is standard. Each version ships with a HEX-compatible mounting plate. Other plate footprints are available for purchase through SA's Agency Optic System store.
Like the single-stack Emissary, the DS Prodigy has a hammer-forged slide and forged stainless match-grade bull barrel with 1:16 twist. The railed Prodigy design is less angular than the Emissary, but the heft remains. SRP: $1,499, without optic; $1,699, optics pre-installed.
Check these out on springfield-armory.com
Taurus 
Keeping with the trend of companies releasing micro-compact models and then moving up to larger editions, the new 9mm GX4XL takes the GX4 to "XL" status from an additional inch on the slide, which is gas nitride-coated carbon steel. It encases a 3.71-inch, DLC-coated stainless-steel barrel.
The T.O.R.O. (Taurus Optic-Ready Option) slide is available for the GX4XL. This no-plate mount fits several current carry optics including, but not limited to, Shield, Trijicon, Holosun, Riton, and Sightmark models.
Capacity remains 11 or 13 rounds, with a 10-round option available. Among other standard features are a flat-face trigger, serrated blackout adjustable rear sight, and two backstrap choices. SRP: $429 standard slide; $459, T.O.R.O. slide without optic; $549, with a factory-installed Riton optic and BUIS.
Check these out on taurususa.com
Taylors & Company
This importer/reseller is now offering a set of revolvers that bridge the gap between old and modern. The single-action TC9 line is chambered in 9mm, with the profile of the 1873 Cattleman.
Two sizes/styles of TC9 are available. The army-size model has a 5.5-inch barrel, is 11 inches long overall, and weighs 2.4 pounds. If a consumer prefers a smaller wheelgun, it's also offered in a 4.74-inch barrel, 10.25-inch length, with a 2.3-pound frame. Both carry six rounds, and both have the option of large, checkered walnut grips and blued finish ($588.14), or two-piece black plastic grips with color case hardening ($546.39).
Check these out on taylorsfirearms.com
Tisas USA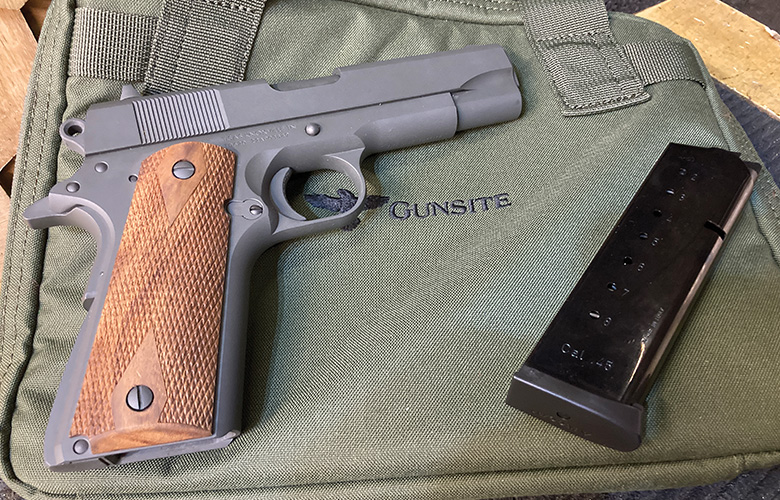 In the 1911 category, the Tank Commander is a quite faithful interpretation of the traditional Colt 1911 Commander. It's tough, with a forged frame and slide and hammer-forged barrel. Its Mec-Gar mags are Cerakoted to match the gun's Cerakote finish, which is infused with lubricity. The checkered grip is Turkish walnut. It's available in 9mm and .45 ACP. SRP: $429.95.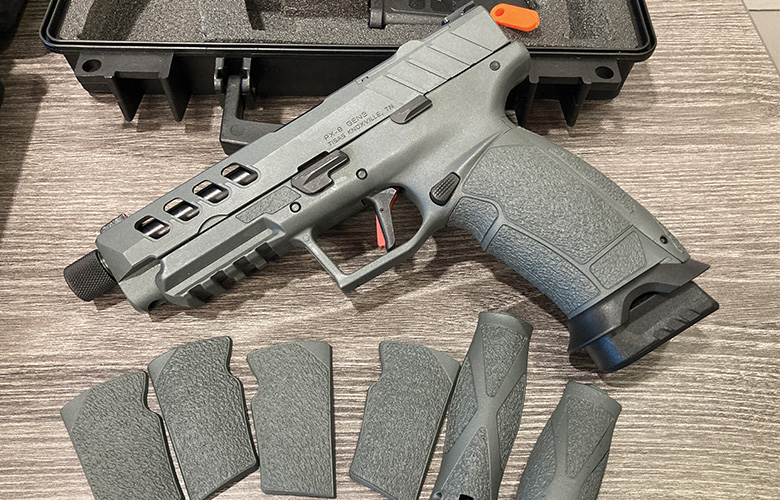 Last year, the company released its first 9mm striker gun, the Px9. Its most recent line extension is the Night Stalker SF. Finished in olive Cerakote (also with lubricity built in), it has distinctive lightening cuts in the slide, and accommodates Glock-pattern iron sights. It sports a threaded barrel. It is red-dot ready with a low cut that allows for a lower-third co-witness. Capacity is 18+1. SRP: $500. Check these out on tisasusa.com
Find more articles like this in the 2023 SHOT Show Day 1 SHOT Daily:
Check out some more products seen at the 2023 SHOT Show 
The Outdoor Lab crew spent a few days at the 2023 SHOT Show in Las Vegas learning about new products, capturing videos and sharing them across our networks. Read all about our initial reactions at www.northamerican-outdoorsman.com.